Greece Power Yachts
Luxury Greece Power yachts above 150 Feet
Greece charters offers some of the most beautiful and luxurious power yachts in the world. The Greek yachts featured below are all above 150 Feet and are available for your Greek sailing adventure. We welcome you to select any of the yachts and we will provide you with all the necessary information to help you decide on the best yacht for your Greece yacht charter vacation.

CORNELIA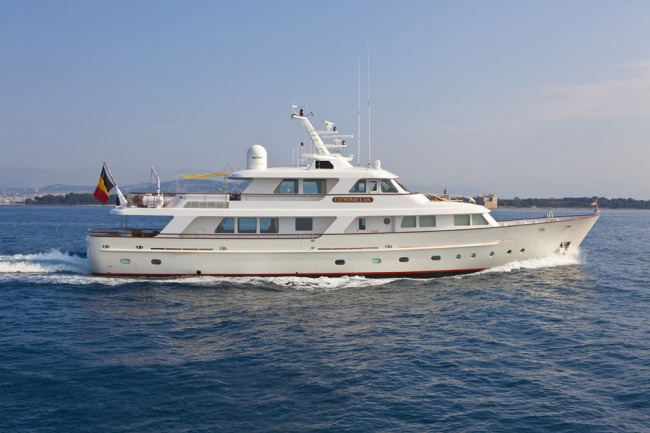 Low Price: €49,000 High Price: €59,000
Accommodations: Number of cabins: 4
Cabin configuration: 2 Double, 2 Twin
Bed configuration: 1 Pullman, 1 King, 1 Double, 4 Single
Number of guests: 9
Amenities
Dinghy Size:
5m Norhtstar Jet Tender
Dinghy Size:
5m Norhtstar Jet Tender
Water Sports
Other Toys:
2 pce Tiwal 3 serie.
Crew Details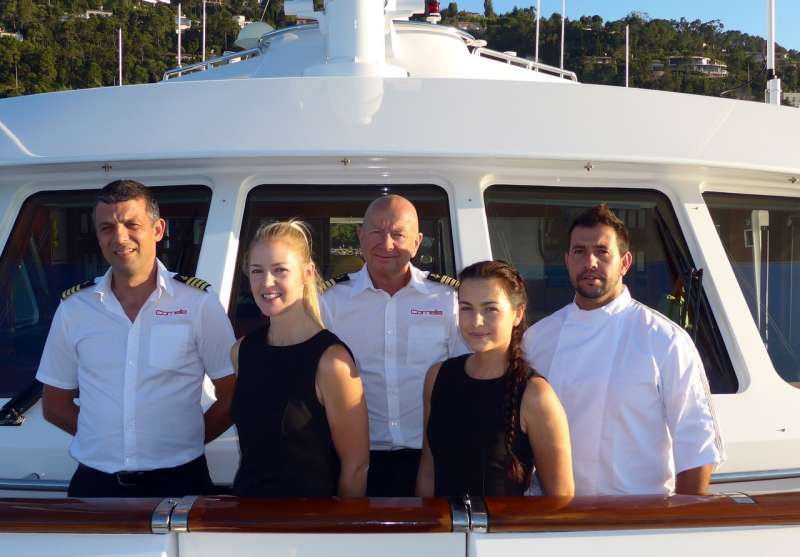 Carsten Franik
Nationality: German
Date of birth: April 24th, 1978
Qualifications: MCA Master 3000 GT, Marine Chartered Surveyor
Languages: English, Spanish, French, Italian, German (mother tongue)

Captain Carsten began his maritime career as a boat builder in Germany, 20 years ago. As a keen sailor, he has actively raced Olympic Regattas across Europe, where his passion led him to the Superyacht Industry. Besides long distance yacht deliveries worldwide, he has managed several private and charter yachts in the last 10 years in the 20 to 50 meter range. With his exceptional communication, navigation, ship handling and luxury charter service experience, he offers the safety and comfort for his guests onboard, so that they can enjoy an unforgettable time onboard.


CHIEF ENGINEER
Thibaut Donaque
Nationality: French
Date of birth: December 23rd, 1977
Qualifications: STCW, OOW Yachts 500 GT, Ship Security Officer
Languages spoken: English, Spanish, Italian, French (mother tongue)

Thibaut started his career in the yachting industry in 2002. He is a very experienced crew member and speaks four languages fluently. Having sailed in the Mediterranean, the Atlantic, the Middle East and the Caribbean, he is a valuable crew member offering his extensive experience. His mechanical expertise ensures that a charter with him will run safely and smoothly at all times.

FIRST MATE
Michael Newdigate
Nationality: South African
Date of birth: November 24th, 1989
Qualifications: Yachtmaster Offshore, AEC,
PWC Instructor, EDH
Languages spoken: English, Afrikaans

Michael began his career in yachting in 2013 and has worked on various
yachts in the Mediterranean. He enjoys the high energy of the summer
season and is passionate about his job. A smooth tender driver, water-sports
pro and a helpful fishing gilly, Michael puts the needs of the guests first and
is currently working towards the completion of his Officer of the Watch
course!

CHEF
Devin Hogan
Nationality: South African
Date of birth: September 28th, 1992
Qualifications: Grande Diploma of Culinary & Arts, Cape Wine Academy Certificate
Languages: English, Afrikaans

Devin was born in Cape Town, South Africa and has an excellent energy and affinity with people. He has 8 years of experience within the Culinary Industry and worked at many top restaurants, where a large portion of his time was spent at The Test Kitchen under the watchful eye of Luke-Dale Roberts. He possesses a wide variety of skills within his trade and has a great understanding of ingredients and nutrition based foods.

CHIEF STEWARDESS
Jeanne Roosendaal
Nationality: South African
DOB: March 31st, 1992
Qualifications: Cambridge A&O Levels, Qualified Substance Abuse monitoring & in-vitro testing, Certificate from Cape Wine Academy
Languages: English, Afrikaans

Born and raised in South Africa, Jeanne has a great passion for the service industry since a young age. She has explored all her passions from working in the restaurant industry, serving and cooking and finally found her passion in wine service and viticulture & oenology. She continued her studies in wine and decided to go abroad

STEWARDESS
Anna Velos
Nationality: Filipino
DOB: March 24th, 1988
Qualifications: STCW 2010, Hotel and
Restaurant
Languages: English, Filipino, French

Anna is a very passionate and supporting Stewardess. Having worked 8
years in the five star Hotel Negresco in Nice, Anna is the perfect crew
member for Motoryacht Cornelia. With her luxury service orientated
mentality, Anna is effectively and positively supporting the team. Her
hobbies are traveling and looking after children as a Nanny!