Greece Power Yachts
Luxury Greece Power yachts above 150 Feet
Greece charters offers some of the most beautiful and luxurious power yachts in the world. The Greek yachts featured below are all above 150 Feet and are available for your Greek sailing adventure. We welcome you to select any of the yachts and we will provide you with all the necessary information to help you decide on the best yacht for your Greece yacht charter vacation.

MABROUK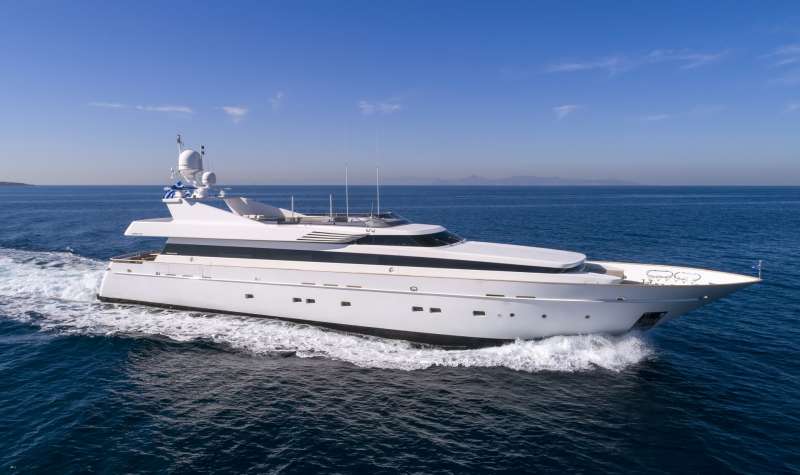 Low Price: €79,000 High Price: €90,000

Builder:

Cantieri di Pisa, Italy

Accommodations: 1 x Master Suite facilities (located on main deck)
2 x VIP Suites
2 x Twin Staterooms
2 x Additional beds if required

Amenities

Water Sports

Other Toys: 1x 5.20m tender "Grand" model 2012 with outboard engine YAMAHA 115hp
1x 3.20m tender "Honda" model 2013 with outboard engine YAMAHA 6hp
1x Jet Ski Yamaha FZR SVHO 1800 Compressor 260 hp three-seater
1x Fly board kit V4 Pro version 2015 model
1x Stand up paddleboard
1x Canoe kayak two-seater
2x Wake Boards
1x Knee board
2x tubes donut type for 1 x person each
Water Ski various sizes (including children)
1x Inflatable Cabana lounge
2x Water ski sets for adults
1x Inflatable sofa 2 seater
1x Mono Ski
Snorkeling Equipment
Drone

Other Toys: Audio Visual Equipment and Deck Facilities:
HD Projector with 92" monitor on Sun deck
Apple tv in all cabins - saloon,Wirelles iphone - ipod - ipad connection on Main Deck/Sun Deck via airport express devices
Centralized entertainment system with remote controls - mini ipad in every cabin
Two Plasma 55'' UHD 3D smart TV in Living Room with home cinema, AV suround system CD/DVD/I-POD receiver and wi-fi internet access
50' UHD Smart TV with Apple TV device surround system with CD/DVD/ I-POD receiver in Master and VIP Cabins
32' UHD Smart TV with Apple TV device surround system with CD/DVD/ I-POD receiver in Twin Cabins
Playstation 4 Console
Apple TV Movie

Communications:

State of the art communication facilities. Internet/e-mail services

Crew Details

Apostolos Katsirintakis (Greek) - Captain

Captain Apostolis has joined the team of MABROUK bringing along with him enthusiasm,
professionalism, experience and extensive knowledge. Since 2005, Apostolis has worked on board
large passenger vessels and naval ships, then shifting his career towards the yachting industry
where he chooeses to remain. His strong background has enabled him to become an effective and
inspiring leader, with loyalty and respect as his two main key points to building a solid foundation
on board. Apostolis is a great believer of leading by example, creating a healthy and safe
environment for all onboard. His love for the sea and his broad knowledge have shaped him into an
excellent Captain. He speaks fluent English and conversational French.


Dimitris Gabriel (Greek) ‐ Engineer

Dimitris is 42 years old and has completed his studies at the Greek Merchant Marine Academy. He
holds a Class A' Certificate as an Engineer and for 10 years has embarked on tankers and passenger
ships worldwide building his experience at sea. He holds a number of Certificates including Life
Saving & Firefighting, tanker safety, and SSO. Dimtiris decided to shift his line of engineering to
charter yachts and finally joined the crew of MABROUK in 2016. Being a vital asset, Dimitris ensures
the safety of all guests and crew onboard. On his free time he enjoys football, reading, cycling and
retro motorcycles repairs. He is married with two children and speaks fluent English.

Stratos Egglezos (Greek) ‐ Chief Steward

Since 1985 Stratos has been an active member in hospitality services, initially onboard Cruise Ships
and then furthered his services to the yachting industry in 2000. He joined MABROUK in 2008, and
has been onboard ever since, due to his utmost professionalism, experience, hospitality and topnotch
services, always offering his best to everyone onboard. Stratos also holds a Life Saving &
Firefighting Certificate and speaks fluent English. On his free time he enjoys basketball, gym and
reading. Stratos is 48 years old, married and has two children.

Pavlos Pavlakis (Greek) ‐ Chef

Pavlos is 39 years old and has graduated from Palmie` Professional Cook School, after finishing a
professional program in the Culinary Arts. In 2009 he commenced his position as Cook in high-end
cruise ships, restaurants and yachts building his knowledge and exploring Greek & International
cuisines. Pavlos was awarded in the Pan-Hellenic Cooking Festival 2005 on Mediterranean Cuisine.
Pavlos joined Mabrouk in 2017 and has been delivering his luxurious gastronomical creations to his
guests onboard with great success! His delightful and delicious gourmet cuisine remains
unforgettable, ranging from from Japanese, French, Greek, and many more, however always
putting his own personal touch, so that each bite can be savored, by even the most demanding of
palates. On his free time Pavlos enjoys reading, cinema and sports and speaks fluent English. He is a
family man, married with one child.

Katerina Vienna (Greek) ‐ Stewardess

Katerina is 29 years old and has graduated in 2017 from the Technological Institution of Athens on
Food Technology & Nutrition. She speaks fluentl English and Italian and holds a HACCP certificate
as well. Since 2008 up to 2017 she was working as a waitress and head waitress in various
prestigious restaurants. In 2017, she entered the Yachting Industry as a stewardess and in order to
further her experience and enrich her knowledge by providing professional service onboard.
Katerina is friendlyand energetic, and has been an asset to the team!

Panagiotis Bitivinos (Greek) ‐ Bosun

Panagiotis is 49 years old and has been working at sea for over 20 years; initially on cruise ships, and
then shifted to the yachting industry in 2004. He joined MABROUK in 2014, proving to be an
important addition to the crew, since his enthusiasm for sea and sports were a perfect combination
to keep all guests active and busy on the water. He holds various certificates such as a Bosun
Diploma, RO/Ro & passenger Ship Certificate, and Advanced Life Saving & Firefighting Certificate. On
his free time Panagiotis enjoys fishing, hunting, diving and generally water sports. He is married with
2 children and speaks English.

Dionisios Verykakis (Greek) – Deckhand

Dionisios begun his yachting career as deckhand on 2011 and since then he has worked on a few
yachts until settling on board MABROUK. Dionisios is also a Maritime Armed Guard in the Indian
Ocean and the Red Sea and his skills as a security guard and his love for the sea makes a great
combination making all onboard feel very safe and secure. He is excellent with water sports and a
very pleasant personality, his seamanship and disciple making him an asset for M/Y MABROUK.
Dionisios speaks English, is 41 years old with 2 children.