Greece Power Yachts
Luxury Greece Power yachts above 150 Feet
Greece charters offers some of the most beautiful and luxurious power yachts in the world. The Greek yachts featured below are all above 150 Feet and are available for your Greek sailing adventure. We welcome you to select any of the yachts and we will provide you with all the necessary information to help you decide on the best yacht for your Greece yacht charter vacation.

FREEDOM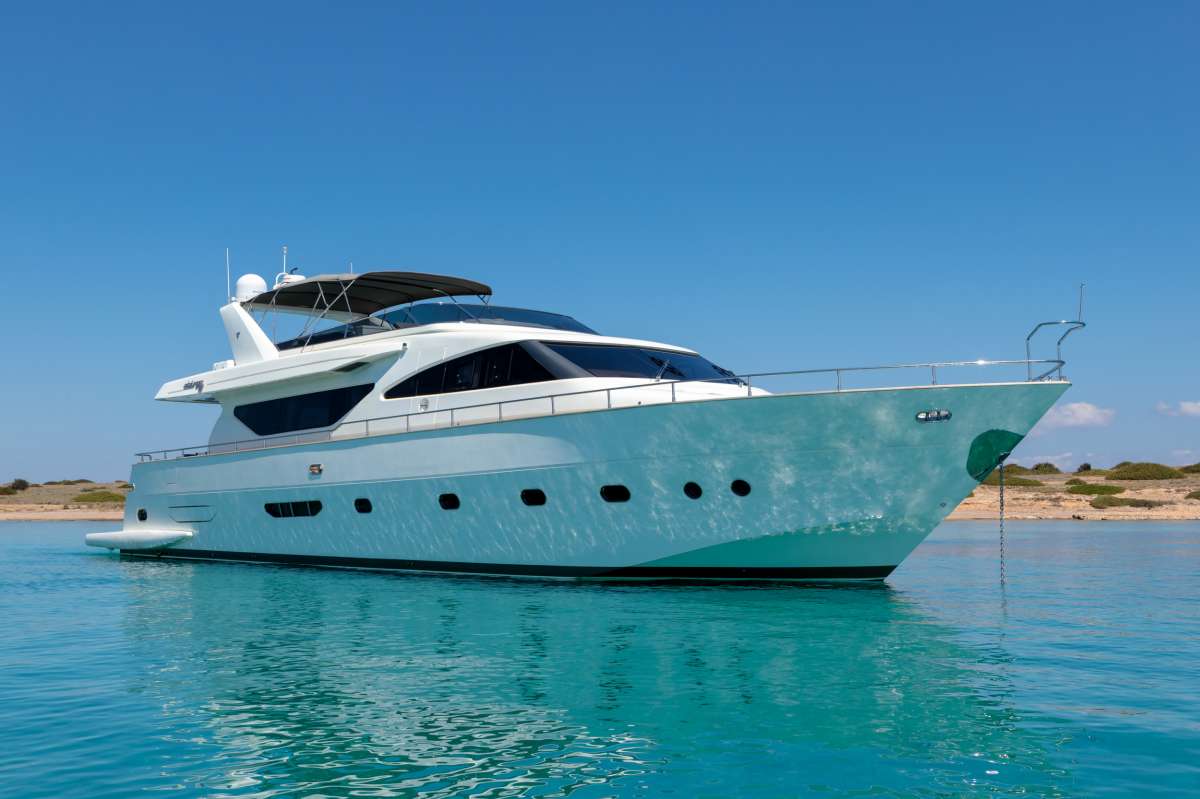 Low Price: €26,500 High Price: €30,900
Accommodations:
she features 4 cabins (one master, one VIP and two cabins with twin beds convertible to double) all with en-suite facilities.
Amenities
Water Sports
Other Toys: • Fishing gear
• Deep sea diving equipment
• Snorkeling gear
• Jet ski at request
• Water skiing gear
• Wind surfing board and sail
• Wifi
• TV system in all rooms operating independently

Crew Details
Captain Nektarios Bogris
Captain Nektarios holds a Captain Class A' Diploma, a Yacht Master 3000 GT certification and has successfully completed the STCW training courses for seafarers. In addition, he holds a speedboat license. He realized that the sea is his passion at a very young age, influenced by his father who was also a Captain. As a result, he commenced a yachting career in 1981 and gradually sharpened his skills and obtained useful knowledge of navigating being at the helm of many motor yachts. Throughout his career, Nektarios was in charge of the refit of yachts as well. He is capable of meeting every guest's need and make their stay on board a memorable and entertaining one.
Languages: English, Italian, Greek
Previous Yachts: "Alpha Alpha", "Tataboo", "Anemos", "Nino", "Santa Cruz", "Rovan", "Ntinos Blue", "Armonia", "Aimilia", "Petit Spirit of the C's", "Jojo", "Spirit of the C's", "Antiles"
Interests: Cars and motorcycles, traveling, diving, working out
Chef Chrysa Theodorogiorgi
Chrysa is 50 years old with a real passion for her job! Being a Chef for over 20 years now, she can successfully present fusion style meals not only of International cuisine but also amazing Greek dishes, specialized in fish and gourmet game fish! She is very organized in her galley and she loves putting her personal touch in the dishes that she prepares for the guests, combining quality and taste! She has been awarded for fish cooking several times, from Hotel "Grande Bretagne", "Alpha Cuisine" and "Athinorama". In her free time, stays active, doing athletics, swimming and hiking. Speaks Greek and English.
Languages: English, Greek
Previous Work: "Aziza Lebanese & Mediterranean Cuisine Restaurant, the Marriot Hotel in Doha", "Maming Armenian & Lebanese Restaurant, Doha", "Demil Mar, Santorini", "Archontiko Kaltezioti Luxury Boutique Hotel", "Trata"
Previous Yachts: "Absolute", "Tueq", "Hud-Hud", "Hasabi II"
Interests: Athletics, Swimming, Mountain hiking, Movies
Stewardess Oxana Ursachi
Oxana is 34 years old and she is a smily person with a friendly and positive character. She will be delighted to welcome the guests onboard and create a warm atmosphere throughout the yacht, as she is very organised and loves making everyone feel comfortable. She will always take care of the guests' needs and make sure that they will have unforgettable moments, while cruising in the Greek islands! When not working, she enjoys listening to music.
Languages: Moldavian, Russian, Ukrainian, Romanian, Greek and English
Previous Yachts: Caldera Yachting Lagoon 52, Riva 63, Ferretti 62
Interests: Music, reading
Sailor/Deckhand Yevgen Buli
Yevgen holds a degree in 3D Design & Visualization from AKTO Art & Design College as well as a degree from a Chef School in Culinary Arts. He has been working at sea since 2012 offering his services on luxury yachts and has a friendly attitude and passion for work. Yevgen holds a speed boat license and serves with passion and decisiveness along with the other members of Freedom crew.
Languages: English, Greek, Russian
Previous Yachts: "Harmonya", "Saint George", "Ayora", "Aurangel", "Diva"
Interests: Fitness, diving, water sports