Greece Power Yachts
Luxury Greece Power yachts above 150 Feet
Greece charters offers some of the most beautiful and luxurious power yachts in the world. The Greek yachts featured below are all above 150 Feet and are available for your Greek sailing adventure. We welcome you to select any of the yachts and we will provide you with all the necessary information to help you decide on the best yacht for your Greece yacht charter vacation.

SUGAR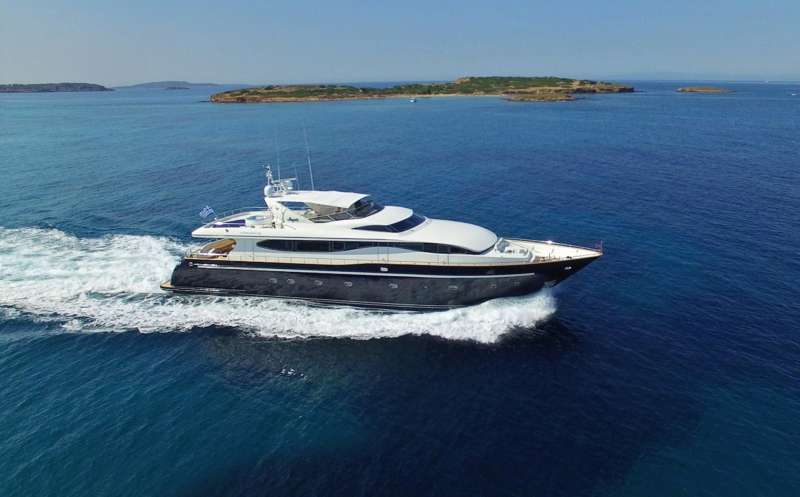 Low Price: €39,000 High Price: €44,000
Accommodations: 1 Master Cabin with Queen bed and his & hers en-suite facilities
1 Vip cabin with Queen bed and en-suite facilities
1 Double Guest cabin with Queen size bed and en-suite facilities
1 Guest cabin with two twin beds and a pullman berth with en-suite facilities

Amenities
Guest Smokes:
in deck areas
Water Capacity:
3.600 Litres
Dinghy Size:
1 Novamarine 430
Water Capacity:
3.600 Litres
Dinghy Size:
1 Novamarine 430
Water Sports
Swim Platform:
Electric Swim Platform
Crew Details
CAPTAIN - Spyros Logothetis
Captain Spyros was born in Syros Island, Greece. He holds a Class B' diploma and has a great experience onboard. Before joining the luxury yacht industry he was working for many years in M/Y VALCO, M/Y GINA M and from 2002-2006 he worked as a Captain and earlier as a Chief Officer for Golden Port Yachts (O'ASIS, O'REA, O'RION, O'PARI). Among other certifications he also holds GMDSS, RO-RO Passenger certifications, fast boat license, SSO and Medical Care diploma. He has worked in merchant marine ships 2nd and Chief Officer. Captain Spyros is the person behind all the electronic innovations onboard and he is keen on learning. In his free time Captain Spyros likes reading, travelling and listening to music. He speaks Greek and English.
ENGINEER - Stavros Bampai
Stavros holds a B Class Engineer Diploma. He has attended many seminars in engineering. He has worked in many cargo vessels and yachts. Stavros aims to please the guests and ensure that everything works smoothly regarding the engines. He enjoys travelling and cars. He speaks Greek and English.
CHEF - Stratos Karatzas
Chef Stratos was born in Athens in 1971 and was drawn to the cooking world since the early ages of his childhood. He graduated from culinary school "Chef D' Oeuvre" and retrained on Italian cuisine at "Nikolas D' Atri" restaurant in Austria. He has worked in many commercial yachts such as M/Y ΖOI, M/Y ΚΕΝTAVROS ΙΙ, S/Y GITANA, M/Y MELINA C, S/Y ARKTOS, M/Y KRISTA MARE, M/Y ΜΑΙSTRALI ΙΙ, M/Y VILLA II, M/Y PANTHER, Μ/Υ FADI, M/Y TAMAC, S/Y CORAB and famous restaurants since the beginning of his career in 1992, which led to a perfect knowledge of the Mediterranean and international cuisine, as well as understanding of intercultural and clients' needs. Chef Stratos is a very job focused individual, always looking to satisfy his clients with his cuisine types and great professionalism. He speaks Greek and English.
CHIEF STEWARDESS – Iro Charalampous
Iro was born in 1978 and she is single. She began her career in yachting in 2009 working as Stewardess in M/Y FUNONE. Her last working experience was onboard M/Y ALEXIA AV as a Chief Stewardess. She has also worked for M/Y CUDU and M/Y DREAM B. She has graduated from College of Tourism Professions of Trace, Food and Hotel Section. Iro also holds all the necessary certificates such as Able Seaman and STCW 10. As a person she is highly motivated, pays great attention to detail and she offers the best services to all guests onboard with a big smile. Iro speaks Greek and English.
DECKHAND/SAILOR – Panagiotis Papavlachos
Panagiotis was born in 1979, at Piraeus, Greece and has started his career in luxury yachts since 2005. His experience is highly appreciated and he worked successfully as a deckhand in luxurious yachts in Greece (M/Y ABSOLUTE KING, M/Y MONTE CARLO, M/S HERMINA, M/Y PANDION (EX DALOLI), M/Y LIBERTADE). When he is not onboard, he enjoys swimming and cycling. He speaks Greek and English.