Greece Power Yachts
Luxury Greece Power yachts above 150 Feet
Greece charters offers some of the most beautiful and luxurious power yachts in the world. The Greek yachts featured below are all above 150 Feet and are available for your Greek sailing adventure. We welcome you to select any of the yachts and we will provide you with all the necessary information to help you decide on the best yacht for your Greece yacht charter vacation.

LEGEND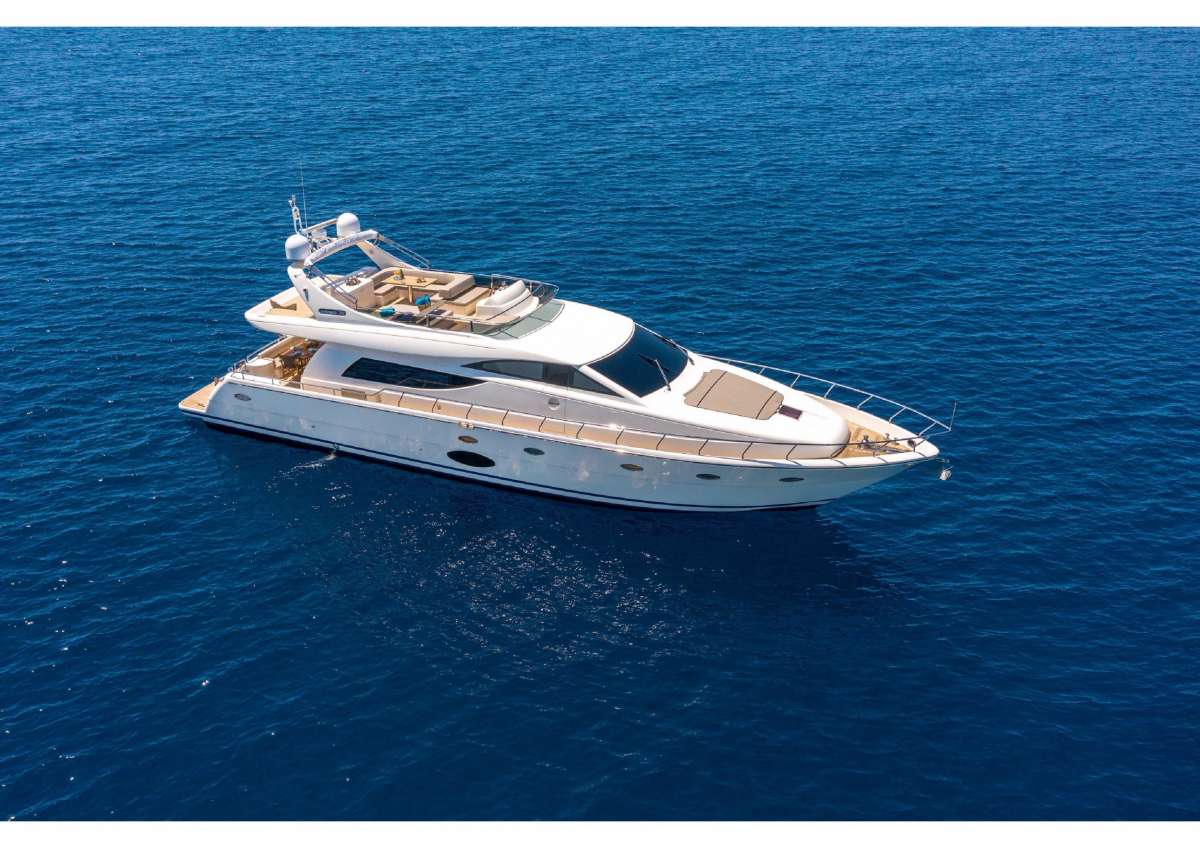 Low Price: €22,000 High Price: €24,000
Accommodations: One Master double-bedded cabin
One VIP double bedded cabin
One Double bedded cabin with one pullman bed
One Twin Guest cabin

All cabins with facilities ensuite.

Crew accommodation for four in separate quarters.
Amenities
Water Sports
Crew Details
Name: Mike Boukas
Position: Captain
Nationality: Greek
Description:
Mike is 44 years old and holds an A' Class Captain's Diploma and Certificates in Safety & First Aid. He started his
career 25 years ago and since then he has been working with great professionalism onboard yachts. Cpt. Mike
will find for the guests the most beautiful and unspoiled beaches of the Greek islands and will offer them an
unforgettable experience during their charter! When not working, he enjoys doing extreme sports like diving or
snowboard. Speaks Greek and English.
Name: Stratos Karatzas
Position: Chef
Nationality: Greek
Description:
Stratos is 49 years old and has graduated from the Chef D'Oeuvre School of Athens. His experience in the
yachting industry is remarkable having worked in several motor yachts as a Chef since 1992. Having an exquisite
knowledge of the Mediterranean and International cuisine, he will prepare for the guests the most tasteful dishes
with the freshest ingredients. His priority is to satisfy the guests' needs and create a unique culinary experience
onboard! In his spare time, Stratos likes spending time with his family and friends. Speaks Greek and English.
Name: Ionela Stefanesku
Position: Stewardess
Nationality: Greek/Romanian
Description:
Ionela is 40 years old and counts many years of experience as a Stewardess in both sailing and motor yachts,
holding a First Aid and Safety Diploma and a Certificate in Personal Survival Techniques. She is a lovely person
and her great communication skills will ensure that the guests will have a great time onboard! In her free time,
Ionela loves cooking and swimming. Speaks Greek, English and Romanian.
Name: Apostolos Katsaros
Position: Deckhand
Nationality: Greek
Description:
Apostolos is 35 years old and holds a Bosun's License and an operating Motor Boat Diploma. His passion for the
sea led him into the yachting industry in 2009 and since then, he has worked onboard several motor yachts. His
communication skills and his team spirit made him the perfect match for Legend's team. The guests will feel
absolutely safe during their charter, due to his experience and responsible character. In his free time, Apostolos
likes doing martial arts. Speaks Greek and English.