Greece Sailing Yachts
Luxury Greece Sailing yachts Over 100 Feet
Greece charters offers some of the most elegant and sleek sailing yachts in the world. The Greek sailing yachts featured below are above 100 Feet and are all available for your Greek sailing vacation. We welcome you to select any of the yachts and we will provide you with all the necessary information to help you decide on the best sailing yacht for your Greece yacht charter.

AEGEAN SCHATZ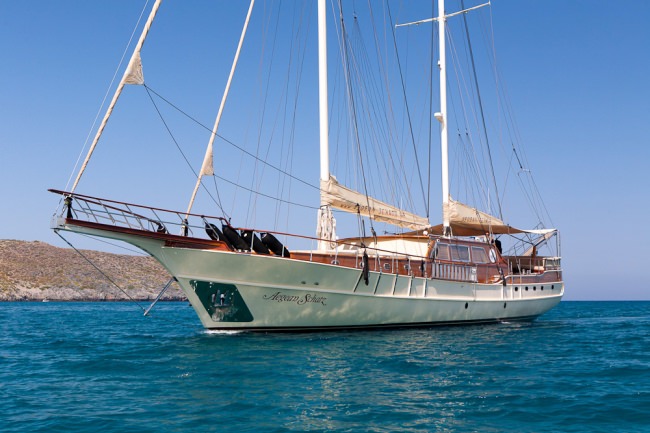 Low Price: €24,500 High Price: €28,000

Accommodations: There are five cabins. Three doubles are located in the aft part where you can access them from the left side of the salon by stairs. The cabins are spacious and comfortable with ample storage space. The floor is mahogany wood. The ceiling is decorated with an off white alcantara. The wall panels are made by cherry wood.
On the other side of the salon, next to the pilot house, you have some steps that lead you to the corridor where you can find the master cabin and the twin cabin. All en suites bathrooms have big and comfortable showers.

The interior decoration of the cabins is simple and minimalist but very elegant.
On the aft deck there is a big wooden table with ten teak wood comfortable chairs where clients can enjoy meals or their refreshments on the fresco. All the aft area can be covered by a big marque that can be opened partially or totally.

As we enter in her bright and big salon, we find on the left side a semi circular light beige couch, with a table that can be lifted or lowered at the height that you require. Further down on the right side, we have a large wooden bar, from where you can access a very large galley with several fridges and freezers, fully equipped.
The floors of all the yacht are made by mahogany wood and the walls of precious cherry wood from Africa, which make the yacht smell wonderful.

All the blinds are made in elegant cherry wood.

Amenities

Water Sports

Other Toys: one 60HP speedboat
water skiing
windsurfing
ringo
snorkeling
kneeboard
fishing equipment

Crew Details

Adyin, Nazmi Oktay, 33, has 5 years experience as a captain, 2 years with the of M/S Aegean Schatz, and 3 years as captain of the M/S Aldebaran. Previous experience includes the M/Y Darnis 3, which he served for 4 years. He is married and has two children. A very knowledgeable and professional captain, but also has a good sense of humor. Speaks Turkish and English.
Engineer/Steward:
Sarisaray, Mustafa, 31, spent one year with Capt. Adyin onboard the M/Y Darnis 3. Nine years experience with motor and sailing yachts and has been with the M/S Aegean Schatz 2 years. A very personable and professional steward, always at your service. Fluent in Turkish and English.
Deckhand:
Besikci, Fahri, 30, 7 years experience with the cruiseliners Star Flyer, Royal Clipper and Star Clipper, an AB seaman, has also been with the M/S Aegean Schatz for 2 years. Always quick with a smile and very helpful. Fluent in Turkish and English.
Chef:
Engin, Derya, 42, A third generation chef, he has worked as a chef in 5 star hotels as well as on the M/S Regal, M/S Princess Zenep, and the M/S White Winds. In addition to being the chef, he is an experienced sailor. He, too, has been with the M/S Aegean Schatz for 2 years. He speaks Turkish and English.