Greece Sailing Yachts
Luxury Greece Sailing yachts Over 100 Feet
Greece charters offers some of the most elegant and sleek sailing yachts in the world. The Greek sailing yachts featured below are above 100 Feet and are all available for your Greek sailing vacation. We welcome you to select any of the yachts and we will provide you with all the necessary information to help you decide on the best sailing yacht for your Greece yacht charter.

GORA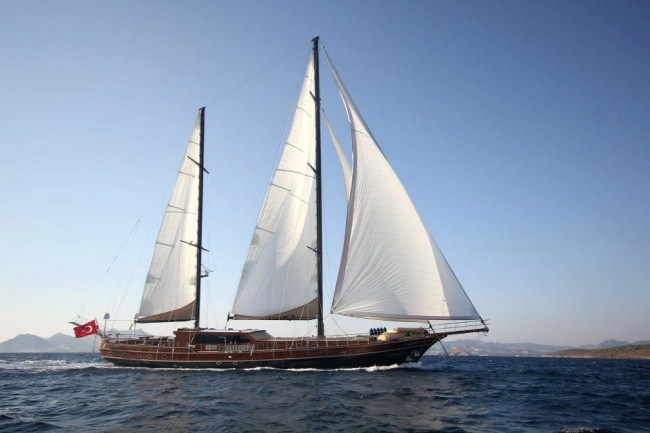 Low Price: €38,500 High Price: €49,000
Accommodations: 5 cabins comprising of 2 master suites, 2 triple with pull-out beds and 1 double VIP cabins , max 12 guests.
All cabins with LCD-TV, Music system, AC, ensuite facilitiy.
Amenities
Water Sports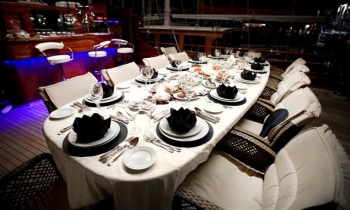 Crew Details
Captain Derya KAYAN
Captain Derya was born in 1967. He is a very dedicated captain and leads his team with
discipline successfully. Being an experienced captain, Derya was appointed as the captain of GORA five years ago. He welcomed many guests and celebrities who left the yacht with great memories. His previous yachts on which he worked were S/Y Deniz for five years, M/S Batuhan for six years, Je Taime for two years and M/S Nihavent for three years. He has been on GORA since the yacht was under construction . Derya is Turkish native and married. Speaks Turkish and English.
Firstmate Bugra MUTLU
Bugra is the greatest help to Captain Derya. He was born in 1991 in Gocek. As his family is in
yachting sector, Bugra knows how to maintanin a yacht very well. He first stepped on a yacht at a very early age when he was a child. Since then he has been doing his job with great effort on gulets, sailing and motor yachts. He holds his captans licence now. He worked on M/S Ender, M/S Jelka, M/S Isla, M/Y Red Sea (privately owned), M/S Carpe Diem I, M/S Semu (privately owned), M/Y Cyrus One (32 m, firstmate position), M/Y M (42 m, firstmate position), M/S Perfect Life (captain).
Chef Kamuran KARAKUS
Kamuran was born in 1984. He started his first career in a kitchen as a sauce chef in Bodrum.
In the following years he worked on different hotels such as Kempinski Hotel Bodrum (for different periods during different seasons), Melek Hotel Bodrum, Kempinski Grand and Ixir Hotel (Bahrain) and lastly Latapa Restaurant. Then he decided to experience cooking at yachts and joined GORA team at the beginning of 2015. Kamuran has an experience of seventeen years and expertised in Mediterranean, Asian, Modern and Traditional Turkish cuisine and Ottoman dishes. He is married and speaks very good English.
Stewardess Burcu BAYRAM
Burcu has an experience of eleven years as a stewardess/service person. She worked both in
Turkey and abroad during these years. Her biggest asset is her smiling face and eagerness to meet the guestss demand. She speaks very good level of English and has been working on GORA for the last three years. Her previous experiences include restaurants at Antalya Airport International Terminal, Madran Palace Antalya, Aqua Marine Restaurant, Royal Caribbean Cruise (for almost four years), and Turkish Airlines before she stepped on GORA.
Housekeeper Dilara BASARAN
Dilara is Turkish native and was born in 1989. Dilara started working on GORA two years
ago, she then worked on M/S Perfect Life and now she is back to the team. She is working very hard to keep the cleanliness of the yacht, especially the cabins. She is using the advantage of being graduated from recreational department from university. Dilara likes spending time with the guests in case they wish to do pilates etc. during their stay.
Engineer-Deckhand Bekir GOKTEPE
Bekir was born in 1985. He has been onboard GORA since the yacht was built. He is in
charge of technical and engineering parts of the yacht. The first thing he cares is the safety and comfort of the guests. He is married and speaks intermediate level of English.
Deckhand Hasan KAYAN
Hasan was born in 1997 and Turkish native. He is in charge of watersports equipment. He is
young and dynamic who likes swimming and any sports related to the sea. He does his best to meet the demands of the guests in order to make them enjoy the every moment of their holidays. This will be his fourth season on GORA. Speaks good English.
Deckhand Ayhan YILMAZ
Ayhan is the one whom you can see on the deck working to keep the yacht well-maintained.
He is one of the youngest crew member. Hardworking and dedicated seaman. He worked on M/S Jelka, M/S Grandi, M/S Perfect Life before he joined the team. Speaks intermediate level of English.