Greece Sailing Yachts
Luxury Greece Sailing yachts Over 100 Feet
Greece charters offers some of the most elegant and sleek sailing yachts in the world. The Greek sailing yachts featured below are above 100 Feet and are all available for your Greek sailing vacation. We welcome you to select any of the yachts and we will provide you with all the necessary information to help you decide on the best sailing yacht for your Greece yacht charter.

WIND OF CHANGE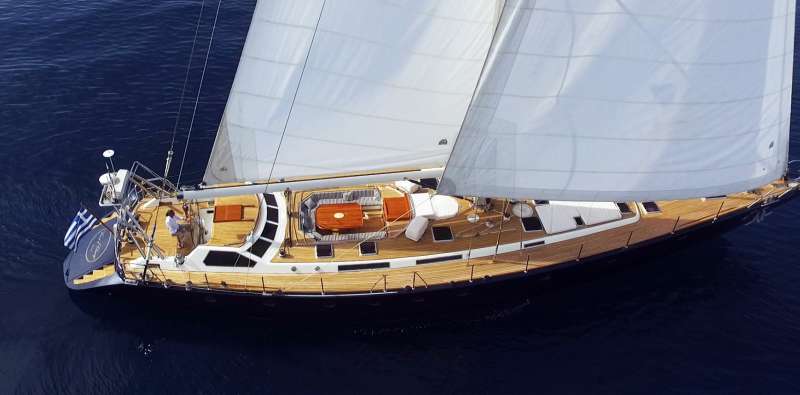 Low Price: €24,000 High Price: €27,000

Accommodations: One Master cabin
One VIP cabin
One twin cabin
All with ensuite facilities

Amenities

Dinghy Size:

3.60m inflatable hard keel dinghy with 50hp outboard engine

Dinghy Size:

3.60m inflatable hard keel dinghy with 50hp outboard engine

Water Sports

Other Toys: 3.60m inflatable hard keel dinghy with 50hp outboard engine
SUP
Tubes
Banana
Water skis
Snorkelling equipment

Barbecue & Beach Set up Equipment:
BBQ
Umbrella
Table and chairs

Other Toys: 1. All cabins are equipped with their own music player system capable of playing music CDs and local radio stations.
2. Saloon + Dining area as well as the exterior dining area is equipped with an Entertainment system that can play music directly from a CD, radio station of even connect your smartphone through Auxiliary cable (headphones plug). This entertainment system has the power to play the music either only in the interior or only in the exterior or even both exterior and interior dining areas at the same time.
3. On the exterior aft deck of the yacht there are very large speakers (1km range) where you can play again your own music through the AUX cable, place a CD or even the radio with the additional use of a high tech DJ console.
4. As for the WIFI You can have access and enjoy a high speed mobile internet in all areas of the Yacht, choosing between 2 different Wi-Fi Networks depending on the location.
5. In addition, the entertainment system is provided with a 32" TV accompanied by a Playstation 3 with multiple gaming options (NBA, FIFA etc), a hard disk with plenty of movies for all taste (childrens movies as well) and a large range of music CDs and DVDs to enjoy on board.

Crew Details

CAPTAIN – Kostantinos Perdikouris
Captain Konstantinos is Greek, born in 1968. He holds a C Class Captain's diploma and has received education for Deck Officer in Charge of a navigational watch serving of a ship irrespective of tonnage, Chief Mate of Cargo and Passenger Ships of less than 3000gt and General Operator GMDSS. He also holds numerus certificates such as Basic Training Certificate, Security Awareness, Proficiency in survival crafts, rescue boats and fast rescue boats, advanced firefighting, Medical first aid, Ship Security Officer, Seafarer with designated security duties and Security Awareness Certificate.
In his career Captain Konstantinos has served on board Ro-Ro/Passenger ships, motor and sailing yachts and he has sailed all around eastern Mediterranean Sea. His experience is a valuable asset ensuring all guests will have a superb sailing experience exploring the most beautiful Greek beaches and landscapes .Konstantinos is an enthusiastic and motivated person aiming to provide an enjoyable and memorable cruise to all his guests. He speaks English. He is married and he enjoys swimming, cinema and fishing.

CHEF – Leonidas Giasemis
Leonidas is Greek, born in 1994 in Chios island. He is a certified technician of Cooking Art by the "Le Monde" School of Culinary Arts. He has attended the following seminars: "Finger Food", "Greek Cheese", "Food, Friends Cocktail & More", "Oenology" and others. He has worked in luxurious restaurants and hotels in Greece and abroad such as Chandris Hotels, Sun Palace Hotel in Rhodes and Koya 5 stars restaurant in Limassol. Leonidas joined the team Wind of Change in 2018. He has a passion for cooking and he produces exceptional high standard dishes which can satisfy the most demanding guests. He loves creating new recipes and preparing advanced dishes. He speaks English and basic French. In his free time he loves sports.

STEWARDESS– Iuliia Pchelnikova
Iuliia was born in 1998 and she is a Russian National. She holds a diploma in Tourism Marketing Strategy. After finishing her studies she started her career in marketing and in hospitality services but her love for travelling and the sea lead her to yachting industry in 2016. Before joining the team of Wind of Change she served onboard M/Y Something Wild. Iuliia is welcoming and friendly and she caters for all guests' needs with enthusiasm and professionalism. She is a valuable team and trustworthy member of the crew providing excellent hospitality services with a big smile! Alexandra is single and she speaks fluent English, Russian and Greek. She enjoys swimming, theatre and dance.


ABLE SEAMAN – Lilian Maritoi
Lilian was born in 1979; he loves the sea and holds a speedboat license. He joined Wind of Change in 2015 and he has all the necessary certificates as an able seaman. Lilian is always active and full of energy to motivate guests in all sea activities. He hopes to make your stay unique and is always on hand with a smile. He speaks English, Greek and Russian. His hobbies are fishing, scuba diving, water sports and cinema.