Greece Sailing Yachts
Luxury Greece Sailing yachts Over 100 Feet
Greece charters offers some of the most elegant and sleek sailing yachts in the world. The Greek sailing yachts featured below are above 100 Feet and are all available for your Greek sailing vacation. We welcome you to select any of the yachts and we will provide you with all the necessary information to help you decide on the best sailing yacht for your Greece yacht charter.

ERATO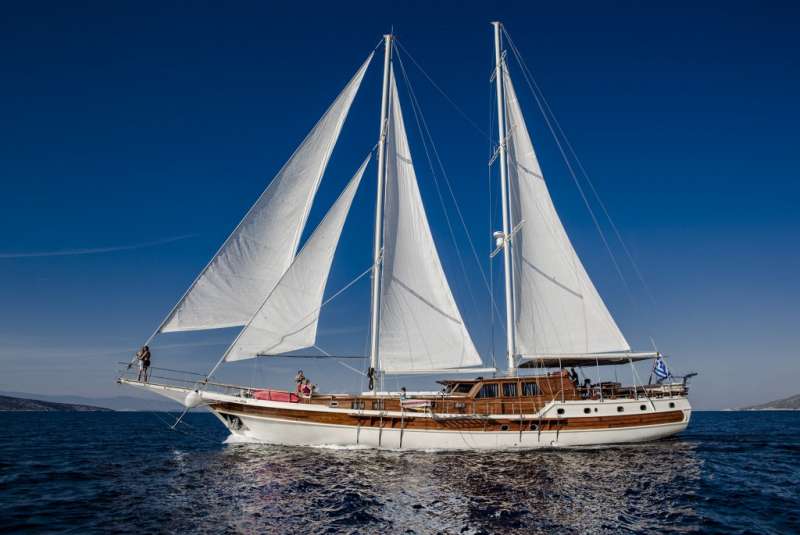 Low Price: €28,000 High Price: €28,000

Builder:

Turkish shipyard

Accommodations: She can comfortable accommodate 19 guests in 7 cabins: two (2) cabins each with a double bed (cabins 6 & 7) and five (5) cabins each with one double bed and one single bed, all with en suite facilities.
Cabin's dimensions
Cabins 1 & 2
3.90m x 2.80m including bathroom 1.50m x 2.40m
Cabins 3 - 4- 5
4.00m x 2.75m including bathroom 1.30m x 2.30m
Cabins 6 & 7
4.50m x 2.60m including bathroom 1.30m x .30m

Beds dimensions
Cabins 1-2-3-4-5
Double bed 2.00m x 1.20m
Single bed 2.00m x 0.70m
Cabins 6&7
2.00m x 1.80m

Amenities

Generator:

2 x 27 KW (ONAN)

Water Sports

Other Toys: 2 x Canoe,
1 x Knee Surf.

Communications:

Radar, Echo Sounder, 2 x VHF/DCS, 2 x GPS - Chart Plotters, One navigation computer, Portable VHF, Autopilot, Wind Instruments.

Crew Details

Crew Profile of M/Y ERATO.

CAPTAIN:
Giannis Kourtis

Captain Giannis was born in 1985 in Athens, Greece. He is married and has 1 child. After graduating the public high School Navy - Masters of Piraeus he entered the Merchant Marine Academy of Aspropyrgos where he obtained a Master B Class Merchant Navy certificate. Captain Giannis also holds skipper's and speedboat licenses. In addition, he was part of the Greek national sailing team for 7 years. Before entering the yachting industry in 2013 he was 9 years onboard of various passenger ferries. His very deep knowledge of the Greek seas combined with his caring personality and enthusiasm ensure that guests will have a unique and exciting adventure during their time onboard! Captain Giannis speaks Greek and English and in his free time prefers fishing and diving.


CHEF:
Natasa Dede

Natasa was born in 1968, she is married and has 2 children. Natasa is an excellent and experienced Chef and she is an expert in traditional Greek cuisine.
She enjoys travelling very much and it is her passion to cook delicious meals for the guests onboard.


ENGINEER – Deck Hand:
Antonis Pantelis

Antonis was born in 1970. He is an experienced engineer onboard ERATO.
He is married and has 3 children.


STEWARDESS:
Flou Tahili

Flou was born in 1975, she is married and lives in Athens.
She was working in big hotels in room service and buffets. She is friendly, polite and has a lot of experience taking care of children and she loves to organize activities or special events for them on board of the yacht. Flou has been on board ERATO for the last 3 years.
Flou speaks very good English.


DECK HAND-Ass. Steward:
Nick

Nick was born in 1979, he is the deck- hand and Ass. Steward.
He enjoys travelling.