Greece Power Yachts
Luxury Greece Power yachts above 150 Feet
Greece charters offers some of the most beautiful and luxurious power yachts in the world. The Greek yachts featured below are all above 150 Feet and are available for your Greek sailing adventure. We welcome you to select any of the yachts and we will provide you with all the necessary information to help you decide on the best yacht for your Greece yacht charter vacation.
PERSEFONI I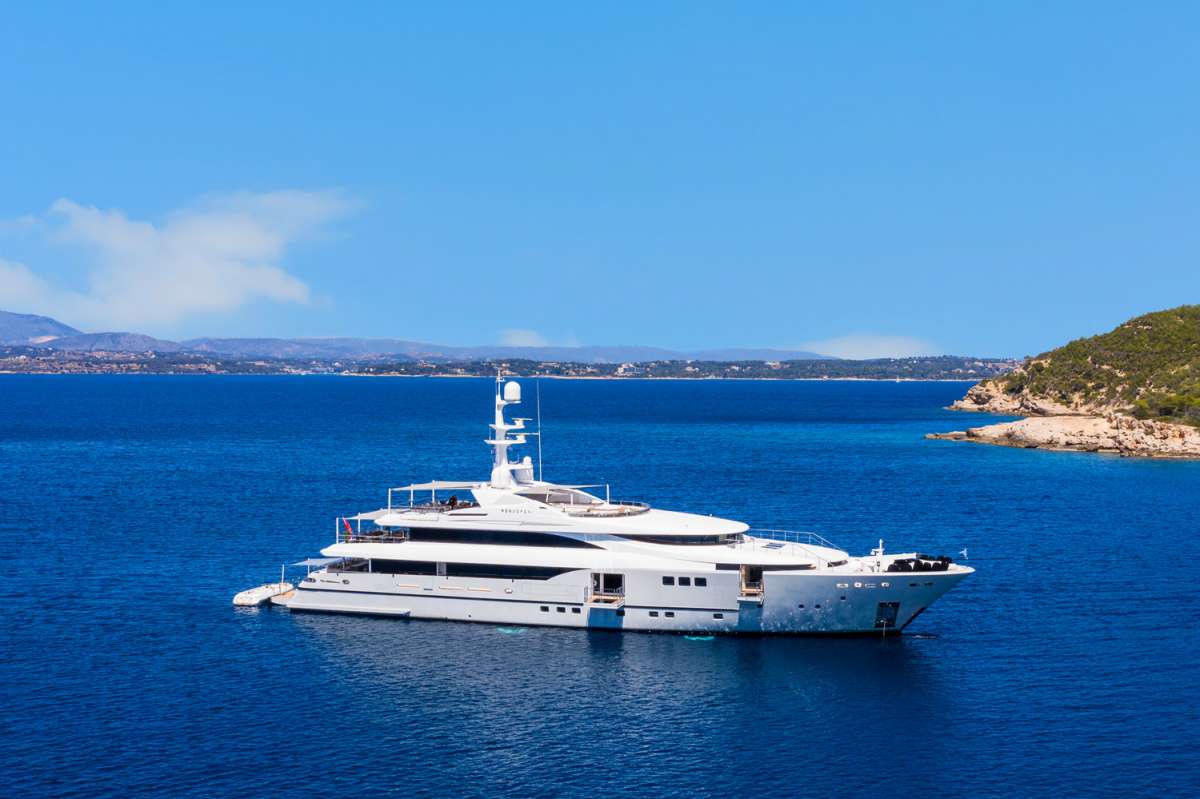 Low Price: €250,000 High Price: €300,000
Accommodations: 1 x Master Suite on main deck with kind size bed
1 x VIP Suite on upper deck with queen size bed
3 x Double Staterooms lower deck with queen size bed
1 x Twin Stateroom on lower deck with two single beds

All with en-suite facilities
Amenities
Water Sports
Other Toys: 1 X Guest tender 12 pax Castoldi Jet Tender 23
1 X Rescue tender Castoldi Jet Tender 14
2 X Yamaha VR Cruiser Waverunners 2011
2 X Seabob F5S
1 X E-Foil
1 X Jobe Double Ring Donut
1 X Jobe Single Ring Donut with Tow Line
1 X Oval Single Donut
1 X Banana
1 X Sevylor Kayak and 2 seats
1 X Wakeboard
1 X Knee board
2 X Fishing Rods
2 X Paddle boards
Other Toys: TVs: ROCU-NETFLIX-SAT.TV
Main Salon 65" Panasonic
Bridge Deck: Upper Salon LG 55" / VIP Stateroom 55" Panasonic
Master Suite: Office 50" Panasonic / Suite: 50" Panasonic
Guest Staterooms: 2X 42" Aft and VIP Panasonic, 2 X 32" Forward Staterooms Sharp

Garage sound system with amplifier and speakers
Main Salon Projector
Blue tooth amplifiers connectivity

Peloton Bike
Tonal Equipment
Massage Room
Jaccuzi J SPA 20/2BL
Crew Details
Name: PANAGIOTIS DIMOPOULOS

Position: Captain
Nationality: Hellenic
Description:
Captain Panagiotis has been at sea since 1998, where his career began on cargo ships. His passion for hospitality led him to continue his career on passenger ships cruising the Greek islands as a chief officer. His extensive experience originates from many years of cruising the Mediterranean with expertise in maneuvering, decision making, and problem solving. For the last 10 years, Captain Panagiotis has been a Captain in the yachting industry. Captain Panagiotis has numerous certificates and is a certified diver. In his free time, he enjoys reading, diving, and sports. He speaks English and Greek.
Name: GERORGE KANDYLIS

Position: Chief Officer
Nationality: Hellenic
Description:
George joined the marine industry in 2004 as a 2nd Officer on cargo ships and began yachting in 2017. As a result of his hard work and dedication, he was quickly promoted to Chief Officer. To expand on his knowledge of yachting, George has attended many seminars and holds a Master 3000GT Diploma, in addition to many more certificates. Tender handling, cranes handling, anchoring, mooring operations and navigation are some of his many skills. His love for the sea began at a very young age as his father and grandfathers were fishermen. George is well-versed in net fishing, spearfishing, and watersports. Outside of yachting, some of his favorite activities include hiking, running, drawing, making drone videos, and video editing. He is fluent in English, Greek and basic French.
Name: VASILEIOS SIKALIAS

Position: Chef
Nationality: Hellenic
Description:
Vasilis has been involved in the culinary industry since 2001 and began his yachting career as a Chef a few years ago. He completed his training at Spondi, a 2-star Michelin restaurant, in Athens, which led him to work as a Chef in many of Athens' top restaurants. Vasilis participates in numerous culinary TV shows and is constantly searching for new flavors and recipes. His specialties include seafood, Mediterranean cuisine, sushi,gluten-free dishes, and vegan/vegetarian menus. In his free time, Vasilis enjoys reading and exercising. He is passionate about creating tailored menus for individual tastes as well as emphasizing the visual art of his dishes. Another well-known skill of Vasilis' is his ability to design special kid's menus with flavors from around the world. Vasilis speaks fluent English, German and Greek
Name: GREGORY CHANDRINOS

Position: Chief Engineer
Nationality: Hellenic
Description:
Gregory first step foot on a merchant yacht in 1997 as an apprentice engineer and his career took off from there. In 2004, he graduated as a 3rd Engineer and was then promoted to Chief Engineer after a few years. Gregory decided to join the yachting industry, where he has gained extensive knowledge of an engine room, among many other aspects. He holds many certificates in the industry, including a PADI Dive Master certificate, and dives every opportunity he gets. In addition to his engineering skills, Gregory is well-versed in tender handling and watersports, and enjoys DJing. He is fluent in English and Greek
Name: STELIOS MARKIS

Position: 2nd Engineer
Nationality: Hellenic
Description:
Stelios took his Marine Technician degree back in 2001 and worked ashore as engineer on a yachting authorized workshop.
Later on, his love for the sea forced him to join the merchant marine academy and graduated as 3rd engineer in 2012, since then Stelios has been on different yachts that helped him gained experience and improve hid skills. At his free time he does professional competition free diving, spearfishing, apnea yoga and lots of watersports. Stelios speaks fluently English and Greek
Name: ELENI VOGLI

Position: Chief Stewardess
Nationality: Hellenic
Description:
Eleni has gained vast experience on yachts since beginning her career in 2009 as a stewardess. With her attention to detail , focus to hospitality, and multitasking skills, she has accumulated 10 years of experience in management and customer service on superyachts. Eleni takes pride in her ability to complete tasks accurately efficiently, and always has a smile when working. A sociable leader, she enjoys assisting her team members and teaching some of the many skills she has acquired. Guests are often amazed by her knowledge of cocktails, wines, and cigars. In her free time, Eleni enjoys photography, diving, snowboarding, and pyrography. Eleni is fluent in English and Greek.
Name: AIKATERINI REKKA

Position: Stewardess
Nationality: Hellenic
Description:
Katerina has been working on yachts since 2019. She studied Marketing & Management Greece and finished her bachelor's degree in Business Administration & Marketing in Britain. Katerina speaks six languages at a professional level and enjoys learning and improving her skills at whenever she can. Katerina holds an Offshore Sailing & Powerboat license, Food & Hygiene level 2 Diploma, and has silver service experience.
Name: GEORGE EMMANOUIL VOUGIOUKAS

Position: Deckhand
Nationality: Hellenic
Description:
George's yachting career began in 2016 as a deckhand. His ability to quickly learn the trade led him to become a skipper on daily cruise catamarans and sailing boats in the Greek islands. George is self-motivated, organized, and a true team player. Prior to becoming a seaman, George worked as a security guard for high-profile individuals at a TV production company in Greece and completed military service on the Hellenic Special Forces. In addition to his work, George enjoys traveling, hiking, swimming, and participating in watersports. He also holds a scuba diving open water license
Name: GIORGOS MARKOZANES

Position: Deckhand
Nationality: Hellenic
Description:
George has been on yachts since 2017 as a deckhand cruising the Mediterranean. Today he is a very experienced, energetic, positive, and ambitious person that succeeds in any tasks given to him. George has completed his military service in Hellenic Special Forces and has an open water diving certificate and speed boat license. He speaks English and Greek, and outside of work he enjoys jet skis, fly-boards, watersports, and motocross.
Name: ILIAS CHARITOU

Position: Deckhand
Nationality: Hellenic
Description:
llias began his career as a junior deckhand in 2013. He quickly learned the ins and outs of the job and now holds his bosun license. In addition to this, llias has Category C and E car drivers license, a speedboat license, and a Security Staff Diploma. His skills vary from crane operations, mooring, anchoring, painting, and varnishing. He is an expert in tender handling, sea toys, and watersports. llias speaks English and Greek
Name: IOANNIS DAVELIS

Position: Bosun
Nationality: Hellenic
Description:
Yiannis started his yachting career as a deckhand in 2009 and within a few years was promoted to lead deckhand. His years of experience with various yacht sizes and cruising itineraries led him to become to a bosun. His skills vary from all aspects of deck maintenance to stock and spares management, watersports, tender handling mooring, and anchoring operations. Yiannis speaks English and Greek.