Greece Sailing Yachts
Luxury Greece Sailing yachts Over 100 Feet
Greece charters offers some of the most elegant and sleek sailing yachts in the world. The Greek sailing yachts featured below are above 100 Feet and are all available for your Greek sailing vacation. We welcome you to select any of the yachts and we will provide you with all the necessary information to help you decide on the best sailing yacht for your Greece yacht charter.
CAKIRYILDIZ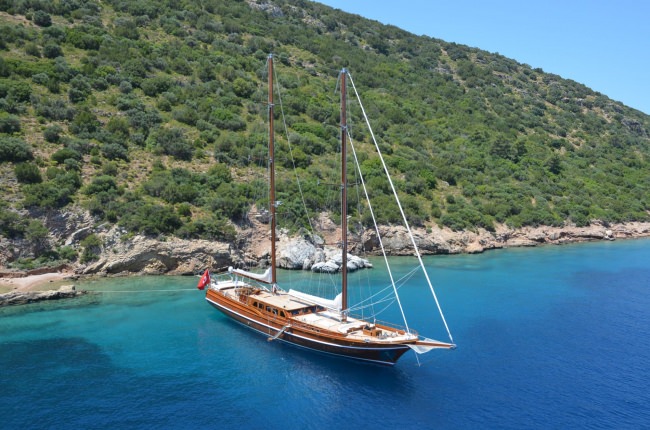 Low Price: €40,000 High Price: €59,500
Accommodations: 1 with King size bed, 2 with Queen size beds, 2 with twin beds
All guests and master suits have expansive portholes and daylight with full bathroom facilities, private climate control, mood lighting, state-of-the art audio visual equipment and wireless internet
Amenities
Water Sports
Other Toys:
Speed boat with 60 hp Yamaha outboard, Water ski, Wind surf, Kneeboard, Ringo, Canoe, Skin diving, fishing equipment
Other Toys: Satellite TV in each cabin and saloon
Home cinema in saloon and master cabin
Sonos central music system available in every cabins and areas
Barbeque, Wifi internet access, HD TV/DVD systems in all cabins, film, music and magazine library

Crew Details
Captain Mustafa Kemal Kahraman Ozalp
Captain Mustafa is a very dedicated seaman. Having started his career at a very early age of 14 for eight years on a diving boat as deckhand which was his first but not last experience on sea, he is quite knowledgeable and experienced captain with his patience and detail-oriented character. In the following years he took his place among the crew of different sizes of both private and charter yachts, at captain position since 1994. His passion of sea took him to sail along Croatia, Italy, BVI and many times in Greece and Southern Turkey. Some of charter yachts he worked on before are Sunworld IX, luxury yacht Hic Salta, Ecce Navigo and Eylul Deniz II. His English level is advance.

Chef Umit Seker
Umit is Turkish and was born in 1989. He worked at a five star hotel for seven years that made him gain further experience in Turkish and Mediterranean cuisines mainly before he started working in yachting industry. Finding new recipes and adding new touches to his expertised cuisines is his biggest interest. He is very much creative and enjoys spending time in the kitchen.

Steward Selami Dedeli
Selami was born in 1985 and he is Turkish. After a six years of working period as the chief of resturant department at five star hotel in Antalya region, he made his decision on working at sea. Selami speaks intermediate level of English and German. He works well under pressure, adapt to new situations and always look forward to a challenge.

Deckhand Serhat Erdogan
Serhat is the youngest among the crew who was born in 1993. He worked on Blue Waters Hotel for seven years before he started his career on CAKIRYILDIZ since winter maintenance period. He is not only a good deckhand but also in charge of interior and exterior area's cleanliness and holding his seamen's book.

Deckhand Burak Kaya
He is a dedicated seaman, working really hard not only to keep the yacht in good condition but also to meet the needs of the guests. Burak worked on gulet Sultan A before he decided to join CAKIRYILDIZ team.

Engineer Hasan Meric
Being the engineer of CAKIRYILDIZ, Hasan has the control of the engine room of the yacht. He gained experience as an engineer from his previous yachts which we can mention Take It Easier and Dolce Vita. Hasan was born in 1974 and he can speak little English.